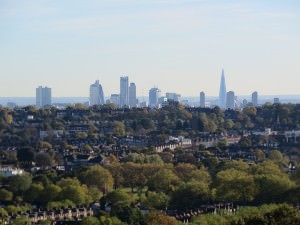 HAMPSTEAD HEATH & PARLIAMENT HILL
Rolling hills, ponds, and just a few stops from Central London offer a fabulous view.  A very green calm space with dramatic views where you can totally distress.  Climb up Parliament Hill for a panoramic view of London. There are lots of people having picnics and flying kites.  Great place for romantic couples, families and groups of friends.  A pleasant atmosphere and again that view… is amazing!
THE SHARD
London's tallest building gives a stunning panoramic view of London that goes on for miles.  The viewing machines help to highlight the more important buildings. Highly rated on Trip Advisor.
ST PAULS CATHEDRAL
Simply an amazing piece of history! The view from the top is wonderful and because you have to walk hundreds of steps to get to the top of this beautiful building, you will have earned it! On the way you can enjoy the whispering Gallery to which to can whisper through one side and it can be heard at the other side.
GREENWICH OBSERVATORY
Best known as the location of the prime meridian.  Walk up the observatory, the views are fantastic overlooking The Docklands and Canary Wharf.
ROOFTOP CINEMA CLUB
How about enjoying a classic movie o recent flick on top of London's buildings overlooking London.  Lovely deck chairs, snacks such as outdoor BBQ food, drinks, and blankets (for those traditionally British days) all make an enjoyable time.
BABYLON ROOFTOP GARDENS
You can enjoy dinner at this chic restaurant while taking in fantastic views over London from the rooftop gardens.  Located just off High Street Kensington tube station.
PRIMROSE HILL
A short walk from Oxford Circus and through Regents Park will lead you onto Primrose Hill.  This is the ideal summer picnic lunch spot.  You can enjoy a view of London's skyline and have fun pointing out the buildings.  Plus everyone loves a bit of greenery and this area is stunning.
OXO TOWER
A cool location along the south bank to have dinner and enjoy the view.  The service is well reviewed. For a dining experience and a great view over the Thames, give this a go.
THE MONUMENT
Just like St Paul's Cathedral, Monument is another one with a good few stairs to climb to the top… 311 to be precise. Good exercise and great views of London from this historical monument.