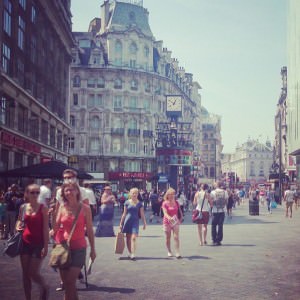 1      Get and oyster card
Unless you are making one single journey on public transport it is highly recommended that you get an Oyster Card. Londoners swear by them and so should you.  They cost £5 which you get back when you hand it back before you leave.  Not only will it make your journeys cost less, Oyster cards are super handy because you will not have to stop, fumble about with your change and figure out how much a ticket will cost from place to place as you can simply beep your card and go through the barriers.  All you have to do is make sure it's topped up.
2      Get a tube map or tube map app
For me the tube app is the handiest because you type in what underground station you are leaving from and where you want to go and it gives you a few options including the best route.  Saves so much time and avoids you standing in the station trying to figure it all out.  Plus it works underground too.  If you do not have a smart phone for this, need not worry as you can pick up a tube map at any station for free.
3      Choose an apartment
You may think you have found a good value hotel and got yourself a great deal.  But what happens with thinking you've got this great deal is that costs such as having to eat out all the time actually mean your travelling costs mount up significantly.  When you book a serviced apartment you can eat in as much as possible which will save you a fortune because London food costs can be expensive.  Also serviced apartments offer you much more space, amenities of home and utilities including internet so in fact they are much more value for money. Click here to see our range of fantastic serviced apartments in London.
4      Plan ahead
There is so much to do in London that you may feel overwhelmed by the possibilities and what to choose.  I would say the best thing to do is decide what you most want to see or do, then what you would like to do if you have the time.  Then you could purchase something like a London Pass that would allow you discounts on things you really want to do.  Purchasing a pass like this can also save you queuing because when coming to London expect queues.  Buying tickets for the things you really want to see in advance can save you money and avoid disappointment of it being fully booked.
5      Green space & free things
London can be a lot to take in especially when trying to fit in everything.  However London has more green space than most cities in the world to enjoy with the city being 60% green so you are spoilt for choice.  You can take in the fresh air within the thriving metropolis.  Wherever you stay in London you will not be too far from some green space some even with water and ducks… we all love to feed ducks.  There are 8 Royal Parks including Hyde Park, Richmond Park, The Regent's Park, Kensington Gardens, Greenwich Park, St James's Park, Bushy Park, Green Park and Brompton Cemetery not to mention other green spaces such as Kensington Gardens, Hampstead Heath, Wimbledon Common/Putney Heath/Putney Lower Commons, Richmond Park, Battersea Park, Epping Forest and more. The choice is yours! London offers some of the most exciting museums and art galleries in the world and most of them are free!  It would be a shame to miss out on this.  Some of the most popular include; Natural History Museum, British Museum, National Gallery, Tate Modern, Science Museum, Victoria & Albert Museum, Museum of London and RAF Museum.