Valentine's Day usually brings throngs of couples to London's hotels for a romantic getaway. If you already live in London, in one of our London serviced apartments, how can you still bring a touch of London to your romantic overtures, without shelling out to stay in a hotel just around the corner? Here we unveil our favourite London Valentine's Day suggestions:
Indulge in perfume afternoon tea style
Perfume is often at the top of the Valentine's shopping list. Take a different twist on it by enjoying the Diptyque afternoon tea at Hotel Café Royal. Scents and infusions abound and are sure to evoke the spirit of love.
Be star struck by love
The Royal Observatory in Greenwich is running a highly unique Valentine's Evening with the Stars on Valentine's Day itself. Unfortunately, the event is unsurprisingly popular and already sold out. However, don't despair. If you're ready to pop the question, do so in an incredible way at the Peter Harris Planetarium.
Serenade your lover with Jazz
Dine while your love is serenaded by the Black Voices Quintet who will be letting loose on some of the most divine and powerful numbers from the 20th century. This is a special event on Valentine's Day at the Jazz Café.
Ditch the boring flowers
Don't be a cliché. However, stick to the flora theme by arranging a workshop to create your own terrarium together at Grace & Thorn.
Indulge in delicious chocolate, behind the curtain
Choccywoccydoodah's London Parlour, a private room hidden away behind a velvet curtain, is ideal for a group of friends to club together and create their own Valentine's event.
Dine in at Balthazar
London is, of course, awash with restaurants ready to take your Valentine's booking. Few will compete with the cosmopolitan Balthazar, in Covent Garden. With red leather banquettes, American style service, and exceptional food, this is the food of love.
View this post on Instagram
Do something together!
If you're likely to cringe over traditional Valentine's long stares and card industry agendas then simply use Valentine's Day as a chance to spend time together. Drink, Shop & Do have a whole bunch of alternative style events for Valentine's Day. You could find yourself creating your own love shack out of toast, or more traditionally creating jewellery.
Go on a high class date
Forgotten what dating was all about? Those days when you'd go for a drink together, just because? Rekindle that spirit by going to the Bloomsbury Club Bar. Inside you'll find plush wooden dens, but for true romance, wrap up warm and head on to the fairy-light strewn terrace.
Indulge in a spot of whisky tasting
Visit the tasting room at Cadenhead's on Chiltern Street. It's down to earth but your taste buds will fall in love even if you don't.
View this post on Instagram
Head to Disrepute
No, we're not advocating doing anything we wouldn't do, but if you want to indulge in a cocktail or two in a crushed velvet booth, then Disrepute in Soho is where you should take your date. This is an exclusive spot and you'll need to apply for membership first.
Heighten your senses
For a Valentine's Day with a real difference book to dine at Dans Le Noir. Here you'll dine in the dark and need to rely on your senses other than sight to really get the most of the meal.
Challenge your other half to a game of ping pong
Want to DO something rather than just be? Head to the Doodle Bar. You can have a giggle over ping pong, or get creative together by doodling on the walls! What's more, the street food available is delicious.
Be a Night Owl
The Owl in Balham is a perfect spot for a Valentine get together centred on scrumptious food. With low lighting in the upstairs restaurant, and gorgeous booths to retire to downstairs, what more could you want?
Say it with chocolate!
It wouldn't be Valentine's Day without chocolate. Don't simply try to guess what your other half would love, take them along to choose their own! Artisan du Chocolat is the ideal place to go, especially as they have a range of alternative chocolates for those on special diets.
Watch Romeo and Juliet
On 14th February, the Rivoli Ballroom will be putting on a special showing of Romeo and Juliet at a unique pop up cinema event.
Take her to the flowers
A bunch is one thing, letting her be overwhelmed by a festival of orchids is another. The good news is that the Festival of Orchids at Kew is on right over Valentine's Day.
Sip champagne on the London Eye
Valentine's Day calls for Champagne, but why not do it in a unique way? Take a trip on the London Eye on one of their VIP Champagne experiences. If you really want to blow the budget, why not hire your own private Cupid's Capsule?
View this post on Instagram
Take to the skies
Take the love of your life to the Sky Garden and watch the sun sets over London, including mesmerising views of the Shard. Dine here, or enjoy a drink, it's certainly a romantic view of the capital.
Party the night away
Prefer to party and get lively rather than sit and dine? The Valentine's Party is for you. Being held at a secret location, you can look forward to a night of live performance including burlesque and theatre.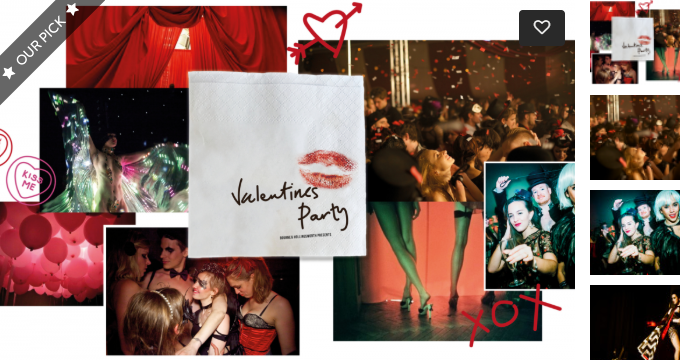 Solve a murder!
Put your heads together this Valentine's Day to solve a murder at Murder On The Barts Floor Valentine's Special. A perfect blend of clue solving and cocktails.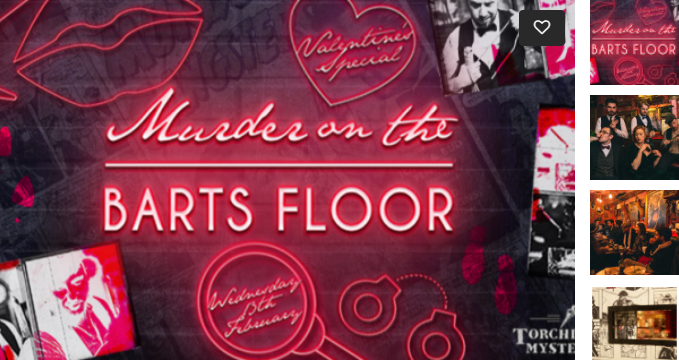 Looking for somewhere unique to stay for your London break? Consider checking into a apart hotel or a serviced apartment for your own romantic corner of London.