SUPER COOL & UNIQUE LUXURY SERVICED APARTMENTS LONDON!
51 Buckingham Gate have a range of serviced residences however I am here to talk about the Cinema Suite.  It is hard not to fall in love with these luxury London apartment's ideal for a vacation and business because they are completely and utterly sumptuous!  When I went around to see them I was genuinely spellbound.  There are really no other serviced apartments like them.  OK so they may be up there when it comes to cost but they are completely up there when it comes to quality.
The building has a historical past and was used by Queen Victoria for guests visiting.  The old stone building is beautiful and inside the Cinema Suite there is a Hollywood meets Bollywood glamour with decadent colours, fabrics, luxury bathrooms, beds and the highest quality modern technology.  Just check out the cinema screen with surround sound below!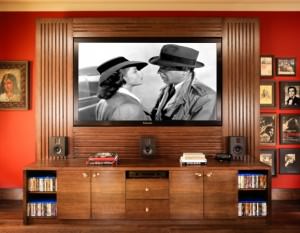 The cinema is ultimate glamour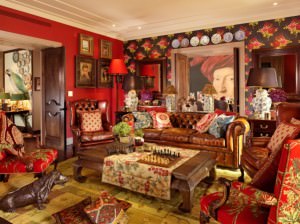 Expensive and lavish bespoke artistic design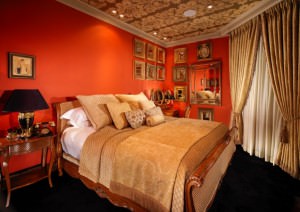 Quality furnishings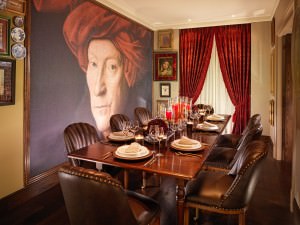 Dine in the company of this infamous portrait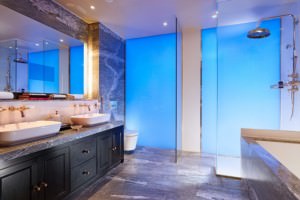 Changing mood lighting to send you into deep relaxation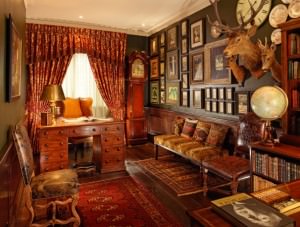 Get work done, read or send emails in elegant style
 Beauty throughout every room.
THE SWEET AMENITIES  Dine & drinks At 51 Buckingham Gate, you can dine and drink in the choice of fine dining facilities including Bistro 51, Courtyard 51, The Hamptons Bar and Library at 51. Michelin starred Quilon with South Western Indian Cuisine (sister to renowned Bombay Brasserie), Bank Westminster and Zander are also nearby so there is a plethora of choices. I dined at Bistro 51 which does a fantastic risotto and the full fish dish is delicious and very filling.  A lovely ambiance surrounds you in Bistro 51 and it is both suitable for individuals, groups and families.  Courtyard 51 has particularly nice views of the fountain (allegedly a gift from Queen Victoria) and garden.  The Hamptons bar is ideal for an after work drink and the Library at 51 is perfect to sit in with an English breakfast tea or coffee.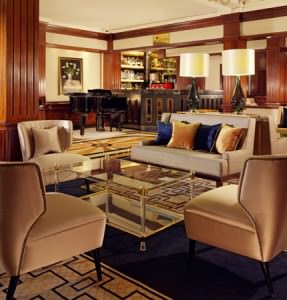 The Hamptons Bar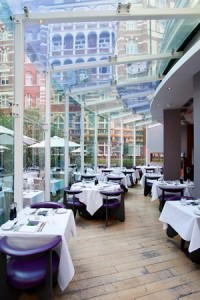 Courtyard 51
Supreme spa & fitness There is an onsite trained therapist who consults with guests before his or her treatment.  And there is a range of treatments for both men and women, in fact 51 Buckingham Gate have introduced a new natural men's skincare range. Before relaxing you can be put through your paces at the fitness suite with a personal trainer who can design a fitness plan to your needs.  Or alternatively there is a cardio room and yoga. THE AREA AROUND 51 BUCKINGHAM GATE, WESTMINSTER Westminster is in the heart of Central London and is home to Buckingham Palace, Westminster Abbey, Westminster Cathedral and The Houses of Parliament.  A beautiful old area of London with many listed buildings. These luxury apartments are also close to coffee houses and shops. 51 Buckingham Gate and the fantastic cinema suite is close to St James Park Underground Station so the apartments are not only are in a respected and desired part of London but are also well connected to the sister areas such as Knightsbridge, South Kensington, Kensington, Chelsea, Piccadilly and the rest of London! What do you think?  Do you think they are as amazing as we think? For more information and rates for these luxury serviced apartments London click here