Queen Street City Apartments London As one of the staff members at London Serviced Apartments, I stayed at Queen Street Apartments so that I could give the low down on one of our apartments from the guest's point of view!
The location
These city apartments are close to the station, for me it was 2 minutes walk from Mansion House servicing the Circle and District Line and the apartment was easy to find (but of course like most of us I used Google Maps).   One thing I did notice on my way was that St Paul's Cathedral is really close which is a personal favourite of mines.  With views like this why wouldn't it be?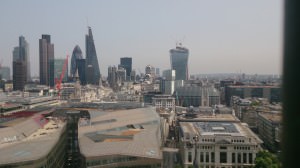 On the way to Queen Street City Apartments, there was a Sainsbury's supermarket around the corner (about 4-5 minutes' walk) which meant it was easy to pick up some food on the way to the apartment. Also close by was a Pret and Manger and café Nero, ideal for my morning caramel latte.  Located only 10 minutes away  on the tube, you have The West End, so this location was a handy base for getting from one area to another. Great for enjoying all London has to offer. Of course during the day, the area was bustling and busy with city workers but in the evening the area was much quieter meaning we could enjoy a nice meal with friends in the apartment before going to a local pub, O'Neill's around the corner.  A few minutes walk over the Millennium Bridge, holds the Southbank with loads of restaurants, bars and attractions.
The staff
When I reached the apartment building, which is a traditional lovely old building I was greeted by a friendly staff member on arrival. And check in/ out was really easy.  Plus we were informed to come and go as we pleased which was really simple with our own key.
The Apartment
The apartment we stayed in was a one bedroom one bathroom apartment but I asked for a sofa bed which meant it was perfectly suitable for the 3 of us staying.  It was absolutely gleaming on arrival as you can see: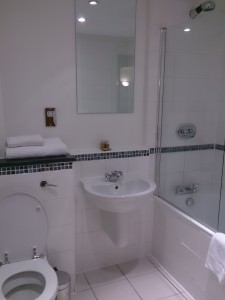 The apartment came with little things to make settling in nice with complimentary L'Octaine toiletries (great because I always forget them) and tea and coffee. As we already had picked up the food we wanted to prepare we set about preparing dinner in the kitchen which was lovely to cook in because it had plenty of space and full utensils.  The best kitchen appliance of course was the dishwasher which promptly dealt with the dishes after!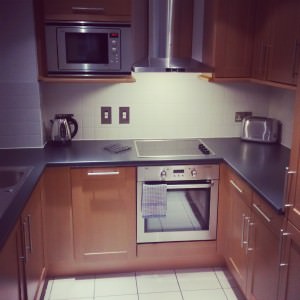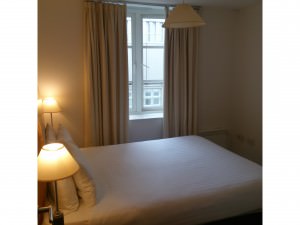 And although these Queen Street City apartments London are in the heart of the city, sleeping was pleasant because the apartments were quiet and the curtains were nice and thick. But you do hear the ding dong of St Paul's Cathedral.  Nevertheless what an epic sound to bring you into your day! For availability on this property and more information please see our Queen Street City apartments London