In my opinion. From traditional cream tea shops, modern fruit tea shops to quirky pet friendly tea shops. Tea drinking in London is a must during your stay!
35/37 Parkway (The Old Palmer's Pet Shop), London, NW1 7PN Yumchaa Parkway Tea Shop do a huge selection of teas with awesome names and a good selection of coffee/ cakes. The only downfall is that you have to queue for a few minutes to get served but at least you can take your time choosing from the vast range on offer. The teas are worth the wait and this is a brilliant environment to catch up with friends or use the Wi-Fi.  There is great mismatching furniture that gives the place that quirky feel. Situated a bit away from the insanely busy part of Camden making this tea shop a pleasant retreat.
91/92 Camden Lock Place, Upper Walkway West Yard, London, NW1 8AF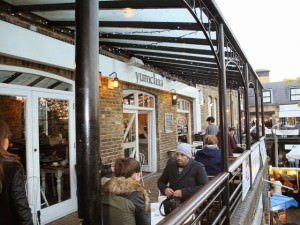 However if your prefer to be in the hustle and bustle of it all then try there is another Yumchaa tea shop right in the heart of pretty Camden Lock Market overlooking the canal and West Yard market. You can also find a Yumchaa Tea Shop in Soho and Tottenham Street along with stalls at London's finest markets, so the choice is yours.
3 White Hart Lane, London, SW13 0PX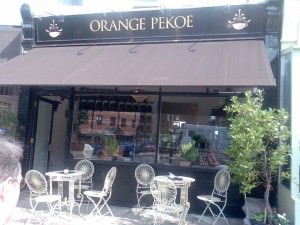 Orange Pekoe offers loose leaf pure tea from far and wide, a tea travel taste sensation.  They do tasty afternoon teas. Tea with jam and cream scone anyone?
152-154 Bethnal Green Road, Shoreditch, London, E26DG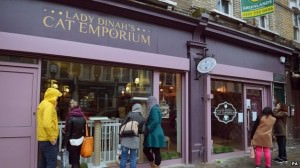 This is a quirky one and I will admit that I haven't actually sampled the tea.  Nevertheless I was innocently walking down Bethnal Green Road Shoreditch, and a little kitty in the window caught my eye.  I had stumbled upon the raved about cat café.  From what I saw, the cats looked super chilled out as their owners indulged in some tea, in what looked like a traditionally styled interior with a modern twist. Also for dog lovers, look out for the well anticipated House of Hounds – Opening May 2014 London, Hoxton.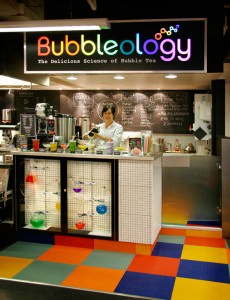 This is a less traditional tea concept and where science meets tea bar.  A great range of refreshing fruit teas and satisfying milk teas with a thicker texture such as Almond pearl tea. Personally I like to have a bubbleology tea during a shopping break at Westfield Stratford City, Europe's biggest inner city shopping mall. You can find Bubbleology in the following London locations: 49 Rupert St, Soho. Harvey Nichols, Knightsbridge. 45 Pembridge Rd, Notting Hill. Westfield Stratford City.
Postcard Teas, 9 Dering Street, New Bond Street, London, W1S 1AG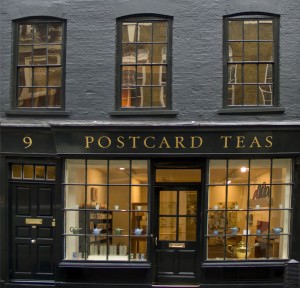 Postcard Teas is a little tea shop near Bond Street. There is over 50 varieties of tea and the owner is on hand for good recommendations. I hope this has given you some inspiration to enjoy our gloriously popular British past-time during your stay in London. For any serviced apartment enquires simply get in touch today.