London is fantastic for kids. From trips on the top deck of a big red bus to roaring like a dinosaur at the National History Museum, London is packed with exciting things to do for families.
However, when planning a family trip to London the question often arises: are there London hotels with family rooms? Travelling with your younger family members requires special consideration for comfortable and spacious accommodations that cater to the needs of every family member. It's often harder to organise than you think – especially if you're not the stereotypical family of four.
In this article, we'll delve into the concept of family rooms in hotels, explore alternatives that go above and beyond and make your trip so much easier, and suggest the best areas for family-friendly accommodation in London.
What does a family room consist of in a hotel?
London hotels with family rooms are designed to accommodate families of usually up to four members. These rooms often feature a combination of regular beds for the adults and additional sleeping arrangements, such as a sofa bed or pull-out bed. While they provide a convenient solution for families seeking to stay together, it's essential to note that these rooms can sometimes be confined in terms of space, given the need to accommodate multiple beds.
It's important to distinguish between a family room and a suite. A suite typically offers separate living and sleeping areas, providing more space and privacy. Furthermore, suites in London are usually geared around couples rather than families. Another option is hotels with connecting doors, but these are often difficult to track down and again only really work for the two adults, two children set up.
While a hotel can be a good option for some, it's worth considering the benefits of a serviced apartment for families seeking a home away from home experience.
Are there alternatives to London hotels with family rooms?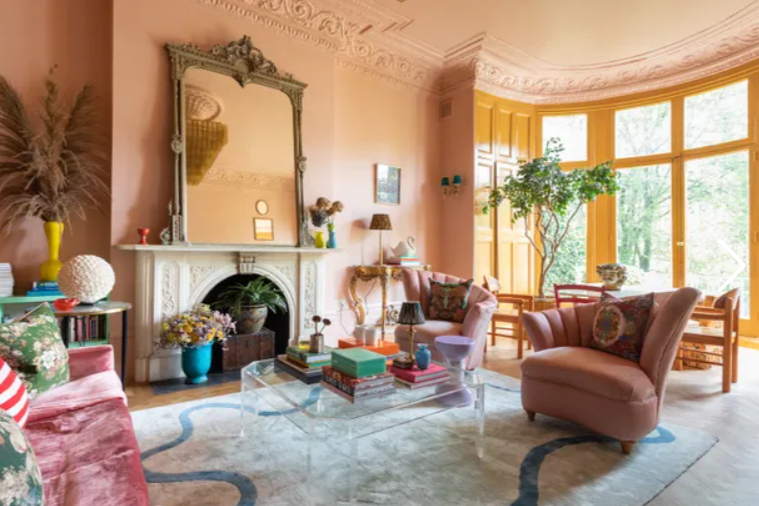 Absolutely! And chances are they will suit your family better than a hotel.
Families looking fora better level of comfort and convenience often opt for serviced accommodation in London. These apartments and houses offer a range of family-friendly features that go beyond the confines of a traditional hotel room.
The stunning Hampstead apartment pictured above is a riot of colour. Perfectly located and with space for up to five guests, it features a fully fitted out kitchen, outdoor space and other perks that are perfect for a family trip.
With a serviced apartment, your family can enjoy the luxury of separate bedrooms, ensuring parents and children each have their own personal space. This setup is especially beneficial when parents want to unwind after a busy day while allowing children to rest peacefully. It's great if you've got older kids and teens too, who need their own space to ensure family harmony on holiday!
Moreover, serviced apartments provide a living area, allowing families to gather and relax together. Parents can put their children to bed and continue to enjoy their evening without disturbing their little ones. The availability of fully equipped kitchens allows you to prepare meals and snacks tailored to your family's preferences, making it a better and easier experience for all.
Where is the safest area to stay in London with kids?
London is a vibrant and diverse city, and safety is naturally a top priority for families. The good news is that London is generally considered safe for tourists, and there are several areas that offer a family-friendly environment. Central London districts such as South Kensington, Covent Garden, and Marylebone are well-regarded for their safety and accessibility to attractions. Another benefit of choosing a serviced apartment is that you have your own safe space and building security is paramount.
What are the best areas in London to stay with kids?
London is a city teeming with fantastic family-friendly areas, each offering a unique blend of attractions and experiences perfect for families. Here are some of the best areas to consider for your family stay:
Bring the whole family to London!
While London hotels with family rooms provide a viable option for accommodating your loved ones, serviced accommodation presents a better alternative, offering a wealth of family-friendly amenities and the comfort of a true home away from home. Whatever your family looks like – from multiple generations and from teens to tots, you'll find a serviced apartment that works perfectly for you.
Let us know who is travelling in your party and we can advise on the best accommodation and locations. Call on +44 (0) 208 004 0007.